Lash lifting-perming- by Elleebana
Before and after
LUCIOUS LASHES THAT LAST FOR WEEKS
LASH LIFT,  also known as lash Perm, is a technique that combines a lifting lotion and silicon rods to lift and curl natural eyelashes, making them longer and fuller. 
Lash lift is a fantastic alternative to Eyelash extension and ther's virtually no aftercare required!
Makes your lashes appear longer without the use of eyelash extension.
Superior formulation with conditioning and nourishing
Lashes stay lifted 6-8 weeks
No damage to your natural lashes
Swim, shower and play with no fuss! No aftercare
Suitable for short&long lashes
Both Men & Women LOVE Elleebana Lash Lift
And, while you are getting on the glam, liven up your new look with a lash tint for a more intense look or to darken light lashes.
Eyebrows shaping and tinting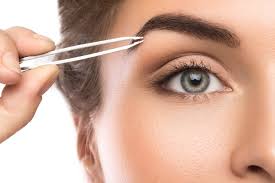 Some people are gifted with beautiful eyebrows and know exactly how to groom them.
But most of us are better off with professional help.
An eyebrow specialist can transform the way you see your facial features. Eyebrows frame the facial features, creating balance if shapped corectly.
Eyebrows shaping and tinting is one of our favorite services. 
The eyebrows can be tweezed or waxed  to remove stray hairs to create a tidy appearance or shaped to create a perfect balanced eyebrow.
Light or grey hairs can be emphasized by tinting with a darker colour(light /medium brown, graphite). Or as an option, the colour of the eyebrows can be easily coordinated with the colour of the hair.

| | |
| --- | --- |
| Eyebrows shaping & tinting | $30 |
| Eyelash tinting | $30 |
| Eyebrows shapping | $20 |
| Eyelashes lifting  | $85 |