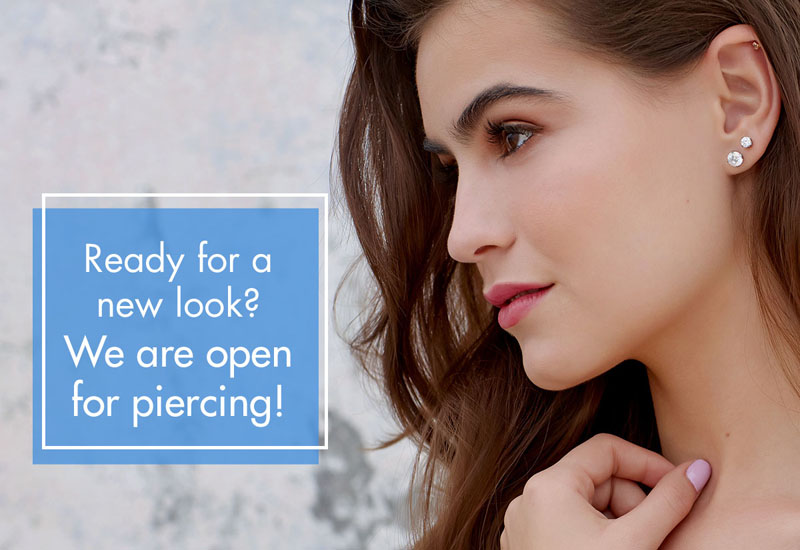 It's a reliable, gentle, sterile piercing. Children are safe!

Hand pressured instrument not a spring loaded gun
Provides a quiet and gentle piercing
Automatic retraction for trouble free piercing
Clear cassette with separate sterile compartments
Fully encapsulated piercing earrings
One piece lock-in cartridge
Services

Price

Ear Piercing

from $60

Cartilage

$60
Be aware! Not all ear piercing systems are alike. Not all metals used in ear piercing are the same.
What do you need to know about metals before your next ear piercing or post piercing earring purchase?
Many ear piercing systems pierce ears with earring metals that may have very high Nickel content. For years, the jewelry industry has studied worldwide health trends, consumer preference and comfort. A rising trend of metal allergies from various types of earrings with high Nickel content has been noted. Many people have reported feeling discomfort after wearing earrings and other jewelry for a short period of time. Nickel content in metals has been identified as the most common cause.
Inverness' jeweller quality piercing earrings have thin posts and ultra-fine points to provide a gentle piercing that will heal quickly. Earrings are available in 14kt and 18kt Gold, 24kt Gold Plate, Stainless Steel and Palladium Plate over SteralloyTM, our trademarked Nickel compliant alloy, as well as Medical Grade Titanium. The selection includes the latest fashion trends as well as classic styles that can be worn forever. Many people who suffer from metal allergies purchase our line of earrings for sensitive ears for continued comfort after the piercing healing period.