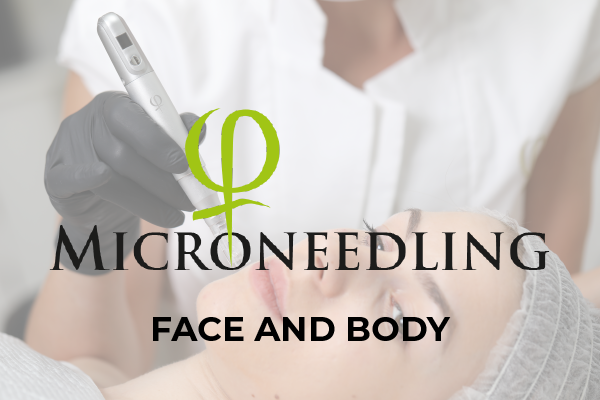 What is Microneedling?
Microneedling also known as Collagen Induction Therapy, is a very efficient and minimally invasive treatment used to rejuvenate the skin of face and body requiring no downtime and it's considered safe for most people who are in overall good health.
The procedure involves the use of a device  that features a numbers of  sterilized fine needles to create hundreds of tiny, invisible puncture wounds in the top layer of skin.The micro-injuries  stimulate the body's natural wound healing processes, resulting in cell turnover and increased collagen and elastin production, therefor  smoother, firmer, more toned skin.
During the treatment, specially designed and patented Solution is being applied to the skin surface and subsequently absorbed. After the treatment, the client is issued with special kind of aftercare product followed by detailed instruction for use. Proper aftercare products application is of great importance.
 Microneedling has several benefits for facial skin of any age, it works to:
Improve the appearance of acne scarring
Reduce fine lines and wrinkles due to aging or smoking
Smooth skin texture
Even out skin tone irregularities due to hyperpigmentation or aging
Reduce large pores, sun spots, or burn scars
Microneedling stimulates dormant hair follicles wich equals with new hair growht
During the procedure, Microneedling allow transepidermal application of the products directly into the dermis such as Vitamin C, Hyaluronic acid etc.
 Topical products applied directly after Microneedling can be absorbed to a far deeper level in the skin, making them more effective.
The procedure is not recomended, if:
Have used Accutane (isotretinoin) within the last six (6) months
Have active faze of acne
Have open wounds, cuts or abrasions on the skin
Have any kind of current skin infection, condition, herpes simples in the area to be treated
Are pregnant or breast feeding
Have a history of keloid or hypertrophic scars or poor wound healing
 
Customized Microneedling Treatment Plan
Because everyone has uniquely individual skin care challenges we will create a customized treatment plan specifically for you and your skin during your initial consultation.
Specially designed and patented Solution is  applied to the skin surface during the microneedling  procedure:
Phi Tango microneedling gel is a mix of skin rejuvenation ingredients that  improve the skin elasticity and increase collagen production.   Ideal for mature skin that needs potent anti aging care, as well as for those who want to prevent signs of aging and keep skin moisturized and balanced.
Formulated with anti-aging antioxidants and peptides as well as hyaluronic acid, it has significant regenerative power, in terms of improving skin tone and firmness.

Phi Jive microneedling gel is a powerful blend of skin calming ingredients intended to be used during microneedling treatment.
 Due to its anti inflammatory properties it calms down skin irritations such as acne and blemishes, controls extra sebum and prevents clogging pores, keeping the skin healthy and radiant. Ideal for younger and problematic skin, as well as oily skin that needs to bring back natural balance.Phi Jive gel acts in a way that it eliminates acne-causing bacteria while minimizing potential irritation, without drying out the skin. It successfully clears existing blemishes and prevents future breakouts, at the same time giving the skin the necessary moisture to keep elastic and prevent first signs of aging.
PhiSpots microneedling gel to improve the appearance of spots caused by aging, sun exposure,  after inflammatory processes on the skin (acne and pimples).
PhiScars microneedling gel to reduce the appearance of scars( surgical, acne, tattoo removal , burns).
PhiHair microneedling gel stimulates new hair growth , prevents hair loss, strenghtens the hair and provide shine and volume.
You will be sent home with Ultimate skin cocktail which will be applied to the face for the next 3 days. During this time no other product can be used in conjuction with the cocktail. NO make-up,sun exposure or harsh products after treatment.
What can I expect after a Microneedling procedure?
The skin will be flushed, similar to a mild to moderate sunburn, for 12hrs to 48 hours. You may also experience mild swelling, dryness, and tightness. Side effects are temporary and typically resolve within 3 days. Total healing time depends on the depth of the treatment, skin type, and skin condition. A hyaluronic acid based serum will be used after the procedure to heal and the skinwill be protected  with a zinc based sunblock.
What I should avoid on my skin after treatment?
To ensure the most ideal healing environment, do not use AHA'S (Glycolic Acid), retinols, Vitamin C Serums or any alcohol-based toners for 2-3 days after your procedure.
When will I see results?
 Typically you will notice an immediate glow, but visible improvement will take about 2-4 weeks and can continue for up to 6 months.
How many treatments will I need?
A series of 3-4 treatments spaced 2 weeks apart is ideal for optimal results. Deep wrinkles, advanced photo-aging, acne scars, scalp hair growth stimulation will need a minimum of 6-8 treatments.